Murat Theatre | Indianapolis, Indiana
Aliens are among us! If you were intrigued by that statement, then you should check out Ancient Aliens Live! History Channel's most interesting and exciting show, Ancient Aliens, will be on tour this fall and extend until the spring of 2023! The ten-date spectacle will stop at Murat Theatre on Sunday, February 2023! This once-in-lifetime show titled Ancient Aliens Live: Project Earth will explore topics of aliens landing on Earth millions of years ago. The event will feature scientists who are experts in their field. So if you're curious whether we are or aren't alone in the universe, you should grab your tickets now, and experience Ancient Aliens Live at the Murat Theatre!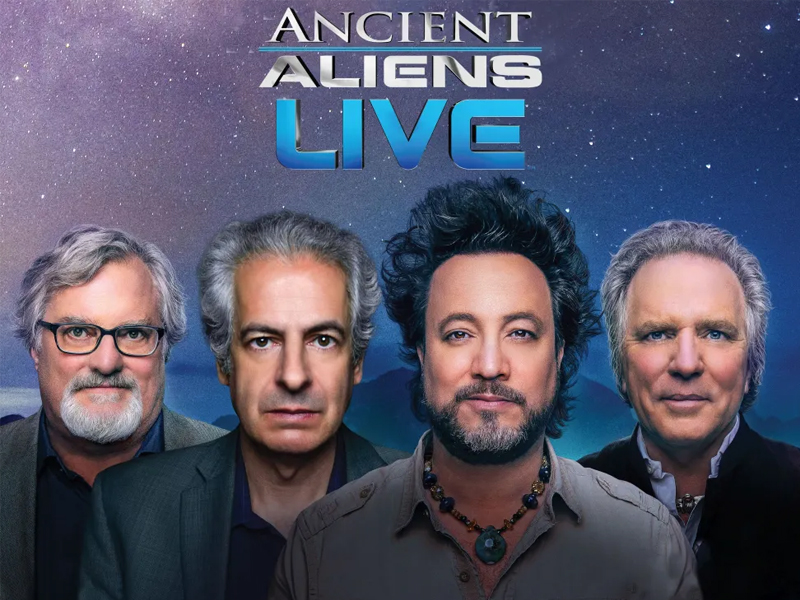 Ancient Aliens Live is a ninety-minute event that will discuss theories, explore possibilities, and investigate evidence that aliens landed on Earth millions of years ago. The event has invited several notable experts to discuss these topics and provide valuable insights and theories. These speakers will tackle fan-favorite topics such as Ancient Egypt, the moon, and many more.
People may recognize Giorgio Tsoukalos as Ancient Aliens' leading expert and co-producer. People who haven't seen the show will also know him from the "aliens" meme that went viral on the Internet. His passion for finding and studying aliens is unprecedented and substantial theories and research have provided insights into the possibilities of extraterrestrial presence on Earth.
Tsoukalos will be joined by author and adventurer David Childress. He has traveled the globe many times in search of evidence behind humanity's origin. Childress has been featured in many documentary series and specials on Discovery Channel, Syfy Channel, History Channel, and many others.
Meanwhile, William Henry joins the cast to share his observations and studies on spiritual potential and transformation. He is considered the authority in the field of human ascension. Some viewers may recognize him from shows on Gaia and History Channel,
Nick Pope's work is considered the real-life X-files. His former job at the U.K.'s Ministry of Defence has given him knowledge and information no other person in the world can have. He now contributes to Ancient Aliens and works as a consultant to alien-themed games, films, shows, and many more.
Lastly, Travis Taylor has worked with NASA, the Department of Defense, and other intelligence agencies working on advanced propulsion concepts, quantum theories such as teleportation, and other future technologies.
If you're keen on learning how aliens are connected to Earth's ancient civilizations, then you should check out Ancient Aliens Live! Tickets to Ancient Aliens Live at the Murat Theatre are now available!