Murat Theatre | Indianapolis, Indiana
The kings of awkward and borderline offensive conversations are back, and they are setting out on a much-awaited tour this spring! Bad Friends Podcast, featuring hosts Andrew Santino and Bobby Lee, is hitting the road, and they are set to make North America laugh with their crazy discussions! The hilarious pair is known for talking about anything and everything under the sun – fans can experience this live! On Saturday, 15th April 2023, Bad Friends Podcast will light up the Murat Theatre in Indianapolis, Indiana! The show is guaranteed to bring plenty of topics, which Santino and Lee will analyze and eventually share some ridiculous revelations! Hurry and score tickets now to this much-awaited live show at the Murat Theatre!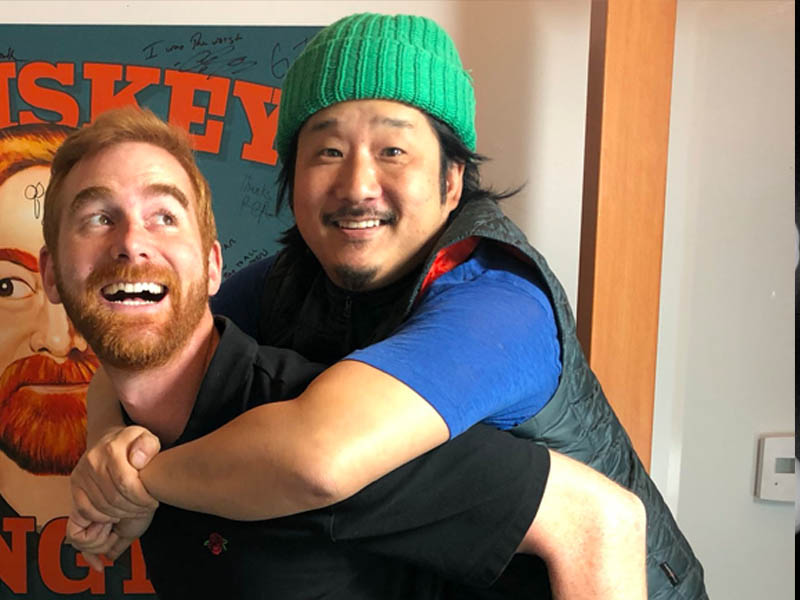 What do you get when two comedians talk about a celebrity's foreskin facial or why Asians don't have people with down syndrome? You'll get the most amusing discussions, some outrageous impressions, and jaw-dropping commentaries. Andrew Santino and Bobby Lee's chemistry proves why podcasts can be awfully entertaining. The duo has also brought in a number of guests to their show, including stand-up comedians, actors, other podcasters, North Korean defectors, and more.
Bad Friends aired its pilot episode on February 17, 2020, and in a span of two years, the show's listeners have grown massively. Their Youtube channel has amassed over 130 million views and over 600,000 subscribers. On iTunes, the podcast peaked at number ten on the platform's top podcast chart upon the release of its pilot episode.
Co-host Andrew Santino has a natural knack for comedy. The stand-up comedian and actor first stepped into the limelight in 2006. He appeared in numerous feature films, including Sin City Saints, Mixology, Imm Dying Up Here, and more. His comedy style often relies on observations and self-deprecation. Still, mostly, his talent for finding something funny on the most tedious and out-of-this-world topics makes him an excellent podcaster.
Co-host Bobby Lee is no different. The Korean American is fearless when it comes to conversations about race, social issues, and other sensitive subjects. The MadTV alum can often be seen impersonating his Korean father about his Asian culture. Lee, a notable stand-up comedian, is a favorite among podcasters and has appeared as a special guest on shows like Logan Paul's Impaulsive, This Past Weekend with Theo Von, and the Joe Rogan Experience.
Catch Andrew Santino and Bobby Lee this spring as they drop by the Moore Theatre on Saturday, 15th April 2023! Tickets are now up for grabs!