Murat Theatre at Old National Centre | Indianapolis, Indiana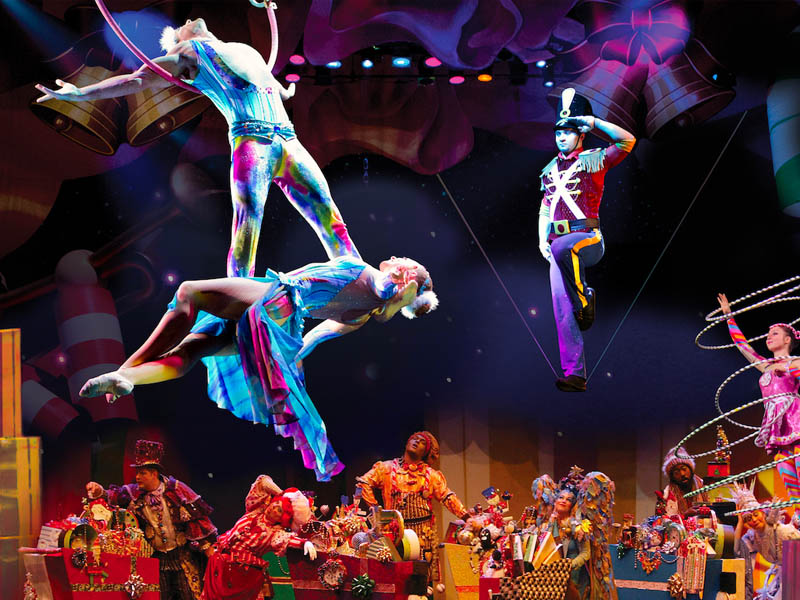 The Murat Theatre will be hosting a plethora of shows for entertainment-loving folks of Indiana! And one of its outstanding shows has captivating visuals, incredible storytelling, and an awe-inspiring synergy of imagination and art! It may seem unfeasible to have all of this in a single event, but it's possible! And it's none other than the amazing presentation by Cirque Dreams! Known for its elaborate productions, this groundbreaking show has entertained fans all over the world, and now it's set to return to Indianapolis! One of its most popular signature shows, Holidaze, will be making its way to the Murat Theatre for a high-flying performance on Friday, 8th December 2023! Holidaze is driven by immensely talented performers who will showcase their skills, fantastic choreographies, and artistry through jaw-dropping stunts. If you're keen on catching the amazing Cirque Dreams Holidaze in Indianapolis, Indiana, then you should hurry and buy your tickets by clicking on the Get Tickets link! Don't miss this amazing event and bring your friends and family along for the ride!
Every winter, the fun-filled holiday-themed shows return to the venues to capture the minds and hearts of viewers. One of the most anticipated winter-themed shows is Cirque Dreams: Holidaze. The circus act is not just a typical stunt-filled extravaganza, but it also features a fantastic story! This one-of-a-kind show has it all - from high-flying acrobats, visually-stunning dancers, death-defying performances, and more. The show is perfect for the Christmas season since Holidaze brings in all the stops from Ballerinas, nutcrackers, reindeer, snowmen, and penguins! They all come to life in a massive production that lasts 98 minutes.
Holidaze showcases a myriad of talents, from body-bending phenoms to juggling masters and jaw-dropping balancing acts. You can tell that every performer has vigorously trained for years to deliver this incredible performance. Besides the show's immense talents, the production has matched the performers' brilliance with an equally captivating soundtrack. The songs are selected specifically to provide the appropriate suspense and thrill – giving audiences a spectacular experience for all the senses.
Another great thing about Cirque Dreams: Holidaze is that it's a show for all ages. The production provides visually stunning colors and lights that would stimulate children's imaginations. Its gargantuan stage and heart-stopping performances will surely delight young and old audiences. If you catch the Cirque Dreams at the Murat Theatre on Friday, 8th December 2023, don't be afraid to lose yourself and enjoy 98 minutes of pure entertainment. It's a show that you'll surely want to see time and time again!
Since 1993, Cirque Dreams have been operating as a subsidiary of the world-famous Cirque du Soleil. The show is known for producing elaborate productions. Cirque Dreams' groundbreaking performances have served as the halftime entertainment for two Superbowls, an NBA game, and have also entertained audiences of Disney, Six Flags, and many more. Depending on the season, Cirque Dreams deliver several signature shows, such as Jungle Fantasy, Holidaze, Coobrilla, and Pandemonia. A dinner production was also created to serve guests on cruises.
This winter, prepare to lift your Christmas spirit and liven up your senses with Cirque Dreams Holidaze at the Murat Theatre! Tickets for the performance on Friday, 8th December 2023, are now available!