Murat Theatre | Indianapolis, Indiana
The sought-after holiday spectacular is coming right back as the Christmas spirit comes dashing through the snow this winter! Cirque Dreams: Holidaze is set to light up the stage once again as the Broadway-style holiday musical makes its big return as the ultimate holiday celebration for the whole family. The critically acclaimed spectacle is hitting the stage at Murat Theatre on Saturday, 3rd of December 2022. Featuring marvelous acrobatics and the perfect holiday songs, Broadway World hails the show as "The Perfect Holiday Gift" as it never fails to dazzle audiences of all ages. So, don't miss out on this perfect chance to bond with the family at Cirque Dreams: Holidaze by booking your tickets now!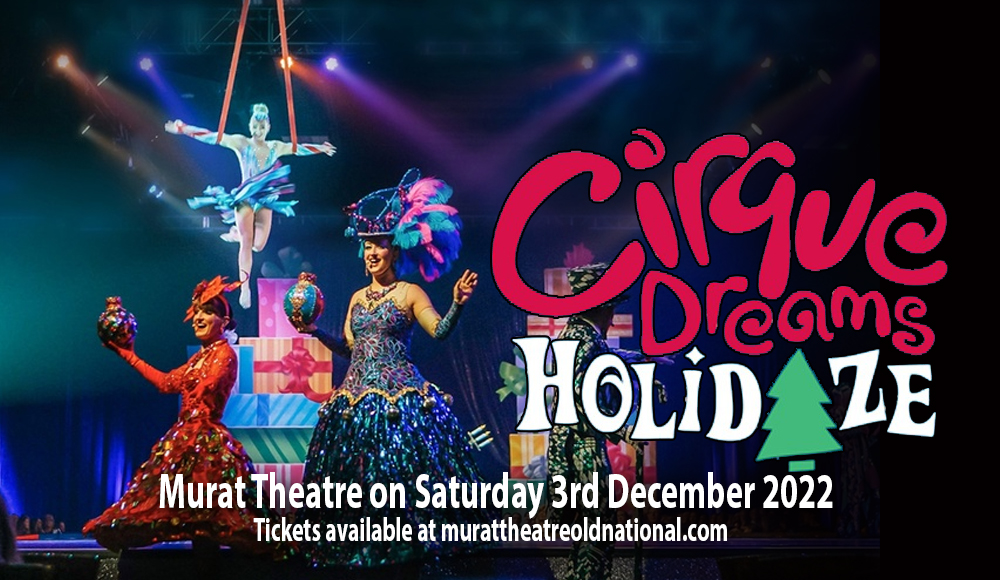 Set to dazzle audiences in over forty cities this 2022, Cirque Dreams: Holidaze is bringing back its highly-acclaimed whimsical holiday shows! With its signature Broadway-style production featuring its signature circus feats with amazing acrobatics and gravity-defying acts that never fail to put audiences in awe, Cirque Dreams: Holidaze is the premier holiday show for the family!
Featuring world-class performers with an original music score that composes of new takes on holiday favorites, singers, dancers, reindeer, penguins, and so much more spring to life on stage, the spectacle serves the magic that the holiday season brings. Promising amazing visuals, songs, sceneries, and storylines, Holidaze is the ultimate spectacle for the family to enjoy during this magical time of the year.
Like a Christmas storybook coming to life, Broadway World says "Lose yourself for 90 minutes and go back to those wonderful dreams you had as a kid."
So, get ready to to lose yourself into the magic of Christmas as Cirque Dreams: Holidaze delivers new twists to your favorite holiday tracks like "Winter Wonderland", "Deck the Halls", and "Rockin' Around the Christmas Tree" a unique touch of magic as you sing along to the show's amazing cast of singers!
If you've been looking for the perfect chance to celebrate this special holiday season with the family, Cirque Dreams: Holidaze is the place for your! Don't miss out on this family-friendly production that never fails to put a twinkle on every audience's eye by booking your tickets now!