Murat Theatre | Indianapolis, Indiana
Waving hello from the concert tour bus is the great troubadour Elvis Costello, along with The Imposters, headed for a trek in various cities and states. Their "Hello Again" concert tour, Elvis Costello & The Imposters will take them down the Murat Theatre on Sunday 7th November 2021. This multi-award-winning singer-songwriter is picking up from where he left off as he had to put his 2020 concert run to a halt as the pandemic and lockdowns kicked in. Elvis Costello has a long-spanning career that began in the first wave of British punk and new wave in the 70s and fans haven't lost touch with his music, which continues to rake in a multi-generation of followers. Catch this iconic artist live on stage. Book your tickets now!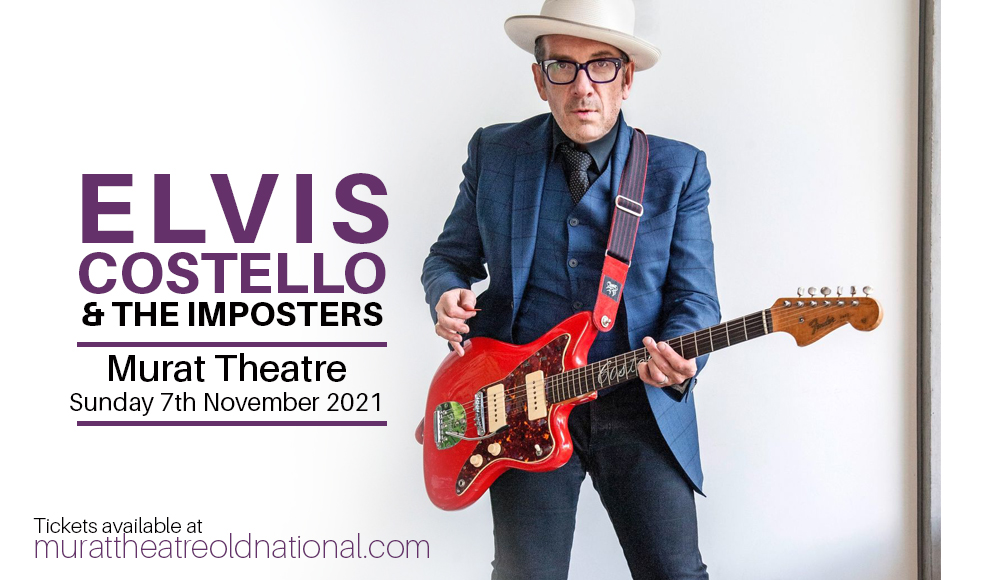 English singer-songwriter Elvis Costello has an illustrious career brimming with awards, citations, and commercial success. He has received 14 Grammy Awards nominations, winning two in 1999 for Best Pop Collaboration with Vocals in 1998 for "I Still Have That Other Girl" with Burt Bacharach, and in 2020 for Best Song Written for Visual Media. He also had twice been nominated for the Brit Award for Best British Male Artist. In 2003, he was inducted into the Rock and Roll Hall of Fame. Rolling Stone Magazine also accorded Costello with several prestigious citations like listing him at number 80 on its list of the 100 Greatest Artists of All Time, and including his first three albums in the list of the 500 Greatest Albums of All Time.
Elvis Costello is upheld by many artists as a major musical influence.
Costello is a master of wordplay, where his lyrics cover a wide vocabulary. He is also described as a jack of diverse genres of music; one critic giving him the moniker "pop encyclopaedia", able to "reinvent the past in his own image".
Elvis Costello & The Imposters are expected to dive into the requisite classics from his 35-year music vault, a press release promises that this tour "will also see the first stage performances of songs from the future, as the band time-travel in all directions."
As his music is timeless, his fans are of varying ages. Don't wait 'til the last minute. Book your tickets now!