Murat Theatre | Indianapolis, Indiana
The sensational comedian is taking out his inner olympian at his very own Jonathan Van Ness: Imaginary Living Room Olympian tour! Following his highly successful first global tour, the queer star is bringing his newest comedy-gold tour to New Jersey at the Murat Theatre on Friday, 14th of October 2022. Starring on the Netflix Emmy Award-winning show "Queer Eye", he is known as the expert hair guru and self-care advocate. Earlier this year, he starred in his new Netflix show "Getting Curious with Jonathan Van Ness" where he explores all things that spark his curiosity. So, don't miss out on his cheeky antics and comedy-gold live performances at the Imaginary Living Room Olympian tour by booking your tickets now!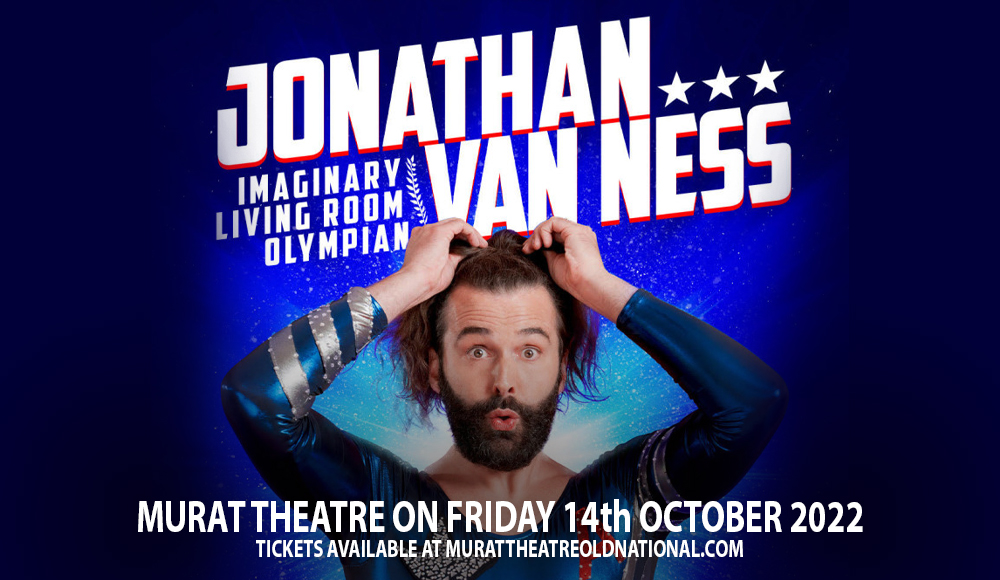 The Queer Eye star and Gay of Thrones legend, Jonathan Van Ness, is taking his inner olympian to the live stage at his newest comedy tour "Jonathan Van Ness: Imaginary Living Room Olympian". The tour is a follow-up to his highly successful first comedy world tour "Road to Beijing" where he performed in sold-out venues.
The new tour promises his signature humor – going about all things under the sun with a touch of some sexy bits here and there. Featuring soaring laughs, hilarious stories, and stellar gymnastics, Jonathan's new tour is set to be his biggest comedy-gold extravaganza across venues around the globe.
Attendees can expect to laugh out loud, clap their hands, cheer, and shed a tear or two as everyone signs up for a joyous journey of silly antics, life lessons, and discoveries with the one and only Jonathan Van Ness.
Earlier this year, Van Ness launched his new Netflix series "Getting Curious with Jonathan Van Ness" which is a weekly exploration of anything under the sun that sparks the comedy god's curiosity, inviting experts and friends to hop in the fun. The podcast series won an iHeart Radio Award for "Best LGBT Podcast" and a People's Choice Award for "Best Pop Podcast".
Van Ness also stars in the Emmy Award-winning Netflix reboot "Queer Eye" where he takes over as the hair guri and self-care advocate. He bagged Primetime Emmy nomination for "Outstanding Host for a Reality or Competition Program".
The comedy god also starred in the Emmy Award-nominted series "Gay of Thrones" where they recap Game of Thrones in a witty and hilarious format. Having gone through multiple seasons since 2013, the show bagged multiple Emmy nominations for "Outstanding Short Form Variety Series".
So, if you're looking for great laughs and life lessons to share with a crowd, look no further and save yourself a spot at Jonathan Van Ness' Imaginary Living Room Olympian tour full of laughs and astounding gymnastics live on stage at Murat Theatre this October 14th. Book your tickets now!