Murat Theatre at Old National Centre | Indianapolis, Indiana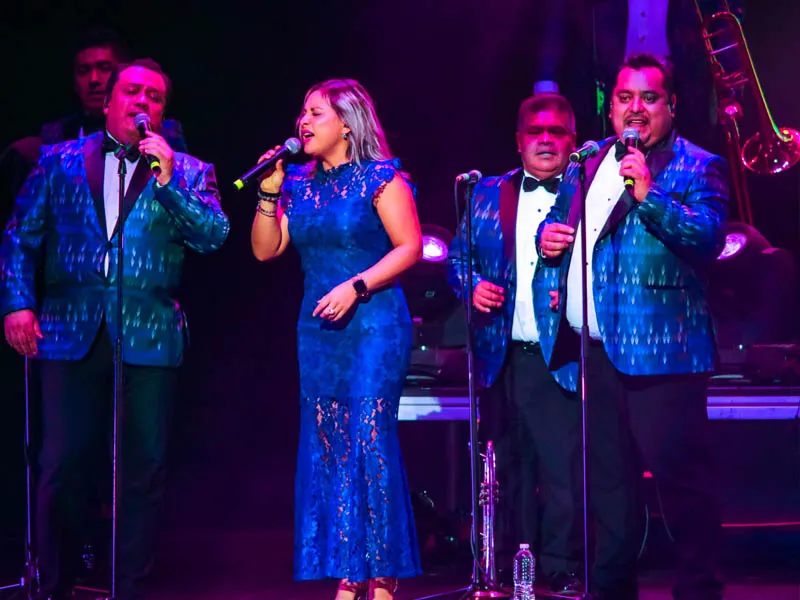 Latin music fans rejoice! The sensational veteran cumbia group brings forth El Amor De Mi Vida Tour! The iconic Los Angeles Azules is a renowned regional music powerhouse known for mixing retro-style cumbia with modern elements! Just imagine the 50's to the '70s cumbia infused with contemporary music plus '90s electronica tendencies! It's a wide range of genres, and it has captivated audiences across the world! Fans in the U.S. can look forward to a great spring season and expect outstanding hits like "La Cumbia del Infinito," "Mi Ninna Mujer," and many more! Prepare for an exhilarating cumbia extravaganza as the Los Angeles Azules brings the El Amor De Mi Vida to the Murat Theatre in Indianapolis! On Sunday, 24th March 2024, fans can anticipate a high-energy setlist packed with iconic hits and fan favorites! Moreover, the group is quite known for their captivating voices and excellent musicianship! Hurry and secure tickets to the most exciting cumbia spectacle of the season!
Iconic covers, original songs, and excellent retro music – that's what attendees can look forward to on the highly-awaited show on Sunday, 24th March 2024! The Murat Theatre presents another incredible group – whose astonishing work has captivated regional music lovers all over the world. Los Angeles Azules has been entertaining fans since 1976! And this 2024, they continue their great legacy by delivering the El Amor De Mi Vida Tour! This coveted outing comes after the group dropped their latest album, Cumbia Del Corazon, in 2022. For the majority of the year 2023, the band has circled the globe to showcase their brand of cumbia staples. In 2024, they will make their way across the U.S. due to popular demand.
Los Angeles Azules is a veteran act comprising members of the Mejia Avante family. Its current line-up includes Elias, Alfredo, Jose Hilario, Cristina, JOrge, and Guadalupe. During the '80s, the group steadily became well-known in the regional music circuit. By the '90s, Los Angeles Azules had dropped their biggest hit album, Como Te Voy A Olvidar. Over the years, the effort has been re-released. Its 2013 version made its way through the Mexican charts, peaking at number 5.
The band's reputation has also grown phenomenally, and they started doing notable collaborations with renowned Mexican stars, such as Carla Morrison, Lila Downs, Ximena Sariña, Natalia Lafroucade, and Gloria Trevi. With their incredible longevity, the band developed their unique sound and eventually pioneered the Cujbia Sinfonica, a project they jumpstarted when they worked with the Mexico City Symphony.
Los Angeles Azules has released over 20 albums in a span of four decades, including their latest effort, Cumbia Del Corazon. For their El Amor De Mi Vida Tour, the band promises to deliver their career-spanning hits, fan favorites, and sensational covers. The show will get audiences up and dancing along to the music as the band showcases their outstanding old-school-style cumbia infused with contemporary elements.
Be sure to catch the outstanding Los Angeles Azules as they conquer the Murat Theatre on Sunday, 24th March 2024! Aside from great music, fans can also expect a great evening thanks to the venue's fantastic facilities, top-tier light and sound technology, and plush seating. You're guaranteed a fuss-free time with the Murat Theatre's great location and excellent customer service!
Score your tickets now to see Los Angeles Azules at the Mura Theatre before it's too late!