Murat Theatre at Old National Centre | Indianapolis, Indiana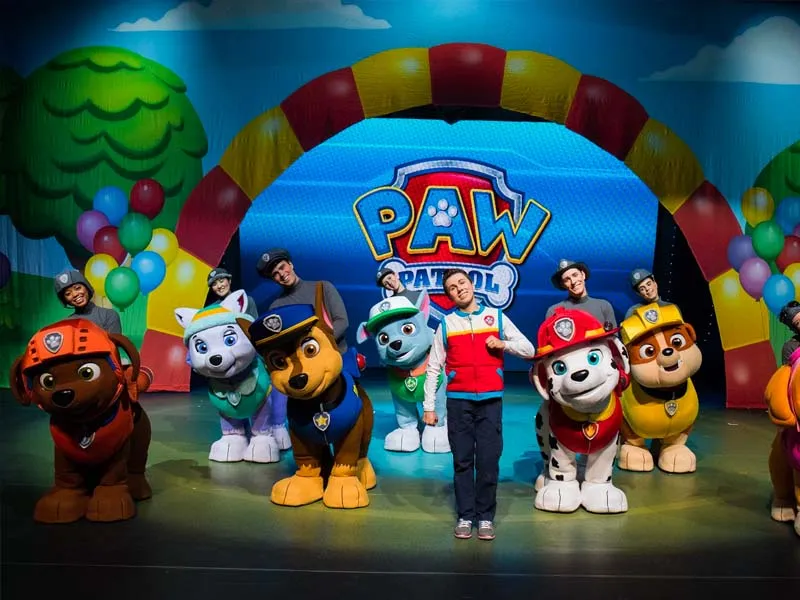 The pups are coming, and they're here to the rescue! Are you ready to go on a wild adventure?! The highly-rated musical featuring a puptastic story, is taking over North America, and it's a lively spectacle designed to entertain the children, as well as the whole family! This February, your kids deserve a treat! And it's not just any treat, it's a paw-rific adventure featuring the brave canines from the Paw Patrol! This brand-new musical brings your favorite heroes to the stage in this thrilling presentation! On Saturday, 24th February 2024, theater fans in Indianapolis can look forward to an ecstatic evening as Paw Patrol Live comes to town! Taking over the Murat Theatre, Paw Patrol Live is set to entertain the entire family with an outstanding visual and aural experience! Attendees can expect fantastic music, breathtaking scenic design, and remarkable characters! It's the most exciting children's show of the season, and it would be a shame if you missed the opportunity to miss this one! Hurry and score tickets now before they're gone!
This 2024, Paw Patrol Live presents an exciting new adventure for spectators at the Murat Theatre! The musical features the outstanding story of the Great Pirate Adventure! Mayor Goodway and the town are getting ready to celebrate Pirate Day! As everyone is busy with preparations, the Paw Patrol is busy rescuing Cap'n Turbot after he gets trapped in a mysterious cavern. During the rescue, the pups discover a secret pirate treasure map! Can you believe it? Now it's time for the pups to go on a pirate adventure and find the treasure! It's all paws on deck for this one, so the pups bring in some help from the map expert, Tracker!
Paw Patrol Live is an exciting new music that travels across North America and beyond! The lively stage adaptation features three spectacular stories: Heroes Unite, Race to the Rescue, and The Great Pirate Adventure. The characters and setting are based on the popular animated television series of the same name. The show, which premiered in 2013 features a pack of rescue dogs called Paw Patrol. They are led by a young boynnamed Ryder. Together, they go on missions to protect the community of Adventure Bay. Each specific pup has a special set of skills, such as firefighting, aviation, police protection, and more.
This 2024, Paw Patrol Live continues its grand adventure by bringing the highly acclaimed musical to Indianapolis! The show is guaranteed to deliver everything that your children love about Paw Patrol, including their favorite characters, the headquarters, the friendly folks of Adventure Bay, and more! This musical will surely get your children dancing and singing along for 85 minutes! Don't worry, there will be a 15-minute intermission in between performances so your little one can rest and get refreshments.
It's a once-in-a-lifetime experience that you and your family will cherish for years to come, so be sure to score tickets now and "bark" your calendars for this awesome day at the Murat Theatre! Rest assured, your family will have a great time not only because of the amazing entertainment but the venue is also equipped with excellent facilities, great customer service, and plush seating. Moreover, the top-tier light and sound system provides a crisp and clear audio and visual experience. Lastly, the great location and ample parking within the two-block radius will provide your family with a fuss-free experience when you come to visit the Murat Theatre.
Hurry and buy your tickets now and bring the whole gang to this spectacular musical, Paw Patrol Live! Tickets are now available through the Get Tickets link!