Murat Theatre at Old National Centre | Indianapolis, Indiana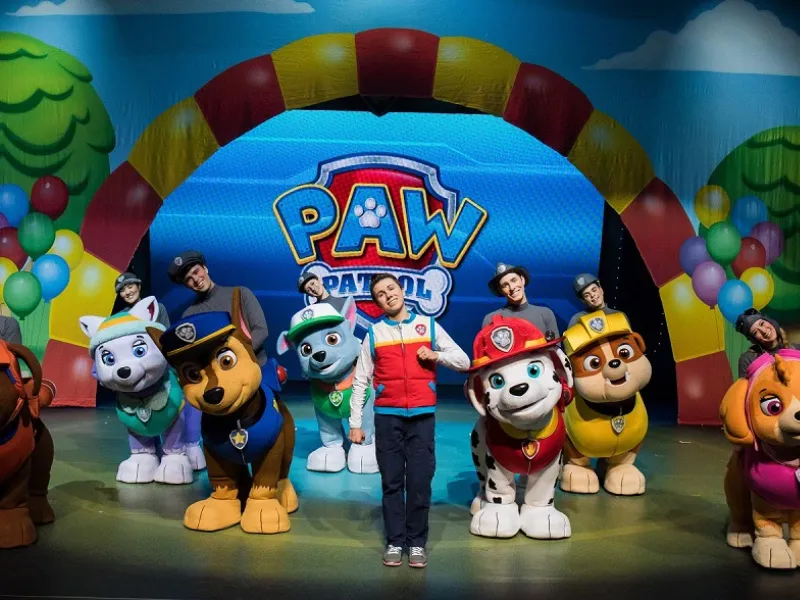 No mission is too big, no pup is too small! Paw Patrol Live makes its way to the Murat Theatre on February 25th to deliver a paw-some show fit for all ages! Sunday Funday is right around the corner and we all know what that means - it's time to join Ryder, Chase, Skye, Marshall, Zuma, Rocky, Rubble, and Everest on their newest expedition, "The Great Pirate Adventure"! What's this? A treasure map has been found inside the mysterious cavern! But will the whole team manage to find the loot before Mayor Humdinger gets to it first? Be there to find out! Deep inside, we all share that youthful spirit, and from time to time, we hunger for our daily fix of exhilarating, Paw Patrol-themed fun! So head down to the Old National Centre and hang out with your favorite characters for a guaranteed entertaining time. Fetch your tickets and be part of the pirate crew in Paw Patrol Live at the Murat Theatre!
Paw Patrol Live is on the way to the Murat Theatre on February 25th, and they're bringing a brand-new story entitled "The Great Pirate Adventure"!
All paws on deck! It's time to celebrate Pirate Day in Adventure Bay but before anything else, Ryder and his crew of pirate puppies need to save Cap'n Turbot from a mysterious cave. Upon doing so, they stumble upon a secret treasure map. Now it's up to the PAW Patrol to explore the land and sea to locate the treasure before the mischievous Mayor Humdinger beats them to it! This calls for some help from the newest pup… Tracker! This fresh paw-tastic tale stars all your beloved characters, from the courageous pups to some surprise guests behind the curtains.
The original animated series won several Canadian Screen Awards for the categories of Best Animated Program or Series, Best Direction in an Animated Program or Series, and Best Pre-School Program or Series. Additionally, the show earned the title of the Environmental Media Award in Children's Television back in 2014 for effectively incorporating eco-friendly themes.
Paw Patrol Live brings to the stage the beloved animated series of the same name, featuring a young leader named Ryder who heads up a team of six heroic rescue pups. Among these brave pups, there's Chase, the trusty police dog responsible for search and rescue missions. Marshall, the firefighting pup; Rubble, with his dependable bulldozer and Skye with her trusty helicopter to save people and animals stuck in high places. For challenging terrains like snow and water, Zuma and Everest are on hand to ensure citizens are safe, no matter where they find themselves. And when things get tough, and gadgets break down, the go-to pup for fixing things is Rocky, the expert repair pup.
"Like Smurfs or Disney's Seven Dwarfs, the pups have just enough one-attribute personalities to be easy to connect to and to generate a catchphrase kids can anticipate. The stories are empowering, with the young characters saving the day with their courage and mastery of cool technology. There are some nice lessons about confidence and teamwork, a more-funny-than-scary villain, and impressive guest stars," Roger Ebert shares in a review.
Drive down to Indianapolis and visit the Murat Theatre at the Old National Centre as it sets the stage for this exciting, fun-filled event! Buy your tickets to Paw Patrol Live today!