Murat Theatre | Indianapolis, Indiana
A musical Christmas extravaganza will welcome Indianapolis music fans this holiday season as the nation's favorite a cappella group, Straight No Chaser, will perform for three nights straight at the Murat Theater at Old National Center. All nine members of the all-male vocal group will serenade their loyal fans with classic Christmas songs that will inspire you in every way possible. Catch the unmatched performance of the crowd-favorite group on their second night this December 22, and be wowed as they deliver soul-stirring renditions of Christmas tunes we all love. Come for the music, and stay for the wonderful atmosphere that these men will create. They are known not only for their voices but for the infectious charisma and enthusiasm they give off in every performance. The venue will surely be filled with singing, dancing, and laughter. This is the show that will complete your holiday! Get your tickets now!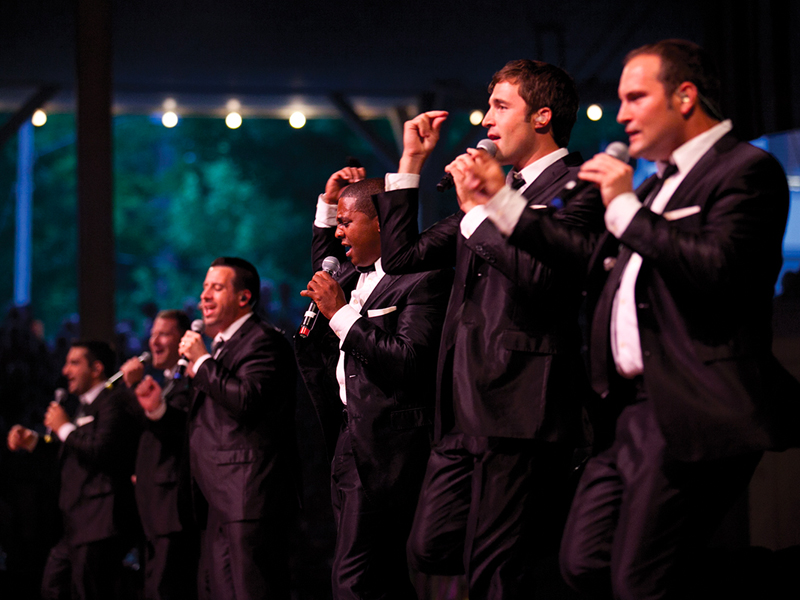 Straight No Chaser is an all-male acapella group, taking harmonies and amazing vocals to a higher level since 1996. A student-led a capella group from Indiana University, they were among the predecessors of the "no instruments, all harmonies" music groups, which rose to popularity in the late 2000s and early 2010s. Their popularity took off immediately with the help of their diverse repertoire consisting of traditional and then modern songs. From being a campus treasure, the group slowly became professional years after their establishment in the 90s.
Dan Ponce, Randy Stine, Charlie Mechling, Steve Morgan, Jerome Collins, Dave Roberts, Walter Chase, Mike Itkoff, and Patrick Hachey were the band's founding members in 1996. They took the name "Straight No Chaser" from Thelonius Monk's song of the same name. Initially, they were exclusively student-led and only performed campus-wide, changing members after the seniors graduated. Their popularity would then reach outside the campus, and they began to tour, reaching Carnegie Hall in their run. They also performed at Wrigley Field, Comiskey Park, and Navy Pier, all found in Chicago. They also served as an opening act for R&B and gospel legend Lou Rawls.
In 2006, their 1998 video performing a goofy version of "12 Days of Christmas" went viral on Youtube. It garnered 24 million views and created a buzz among record producers in 2006. The CEO of Atlantic Records, Craig Kallman, took an interest in the group and called Randy Stine, asking the group to reunite and offering them the opportunity to a studio recording of an album. They gladly accepted and worked on the album for two years.
Eight original members and two members from batch 2000-2003 joined forces to record a Holiday album entitled "Holiday Spirits." It came out in 2008 and topped iTunes and Amazon.com album sales. This success propelled their subsequent albums to charts and streaming services. They have released eight albums, with an upcoming release this June for "Yacht on Rocks."
Their lineup changed throughout the years. The members are Jerome Collins, Randy Stine, Walter Chase, Steve Morgan, Mike Luginbill, Seggie Isho, Tyler Trepp, Jasper Smith, and Freedom Young.
For their "Sleighin' It" tour, Straight No Chaser will perform at the Murat Theatre on Friday, December 22. You should see them live, as this is perfect for Christmas.