Murat Theatre at Old National Centre | Indianapolis, Indiana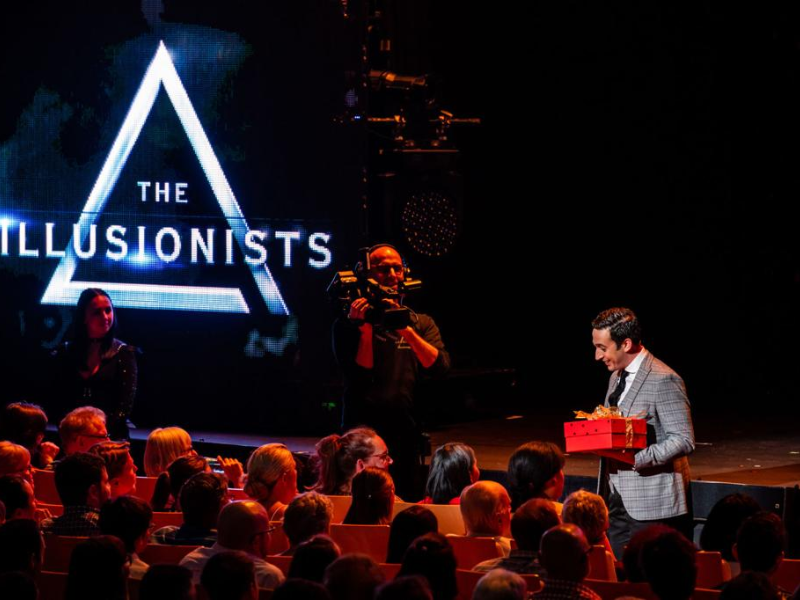 On December 20, expect the unexpected and believe the unbelievable because The Illusionists are coming to the Murat Theatre to mesmerize you with their Magic of the Holidays special! Produced by Simon Painter and Magic Space Entertainment, the box-office-breaking group has enchanted stages from Broadway to West End and hundreds of cities across the globe for over ten years and counting. Find out which magicians from their world-class lineup are ascending to the stage in their 9th annual outing. Each a master of their craft, these tricksters and illusionists promise 2 hours of outrageous acts so mind-boggling and death-defying that it'll leave you gaping in speechless, breathless wonder! Hosting the event, the Murat Theater offers its friendly staff, fantastic seats, and a wholly enchanting atmosphere for you and your family. Don't miss out on this mystifying prelude to Christmas. Buy your tickets now for a magical time!
Welcome, one and all, to the most mind-bending event of the year! Five short days before Christmas on December 20, The Illusionists are presenting their annual Magic of the Holidays show at the Murat Theater LIVE!
After debuting in 2012 to thunderous applause, the franchise conquered the stages of Broadway and London's West End. It eventually expanded to hundreds of cities worldwide, with box-office records left broken in its wake. Today, it sets its sights on Indiana, where crowds of all ages can experience the spectacle through the Murat Theatre's stunning backdrop and ambiance.
"The entire show was amazing. Each magician had unique skills that made the show so full of variety. They made it a family-friendly show, but the humor involved was LOL funny for the adults at times… It was nonstop, fast-paced entertainment from start to finish."
Produced by Simon Painter and Magic Space Entertainment, The Illusionists - Magic of the Holidays features 2 hours and 10 minutes (intermission included) of mind-blowing magic! Expect a wild ride orchestrated by world-class performers, each a master of their art. Jaw-dropping feats of mind-reading and escapology.
Sleight-of-hand tricks at the speed of light. And internationally renowned grand illusions! The 9th season of this yearly tradition will leave you spellbound and bewildered, begging for one more bewitching encore. The final lineup for this event is still shrouded in mystery. We'll keep you posted on new developments!
In an interview from last year's run, The Illusionists' Trickster, Paul Dabek, tells us how the show differs from other magic acts.
"We employ the classic motifs of magic but updated to the 21st century. For example, there are cameras onstage with views from all sides… The 360-degree live feed allows us to present smaller tricks in a large format so everyone in the house can see them… It's a modern take on magic with an interactive dimension. We're all about anticipating the sophistication of the audience and staying one step ahead of that."
Invite your friends and family to join you and watch The Illusionists - Magic of the Holidays LIVE at the Murat Theatre, Indiana, on Wednesday, December 20, 2023. Get your tickets now!